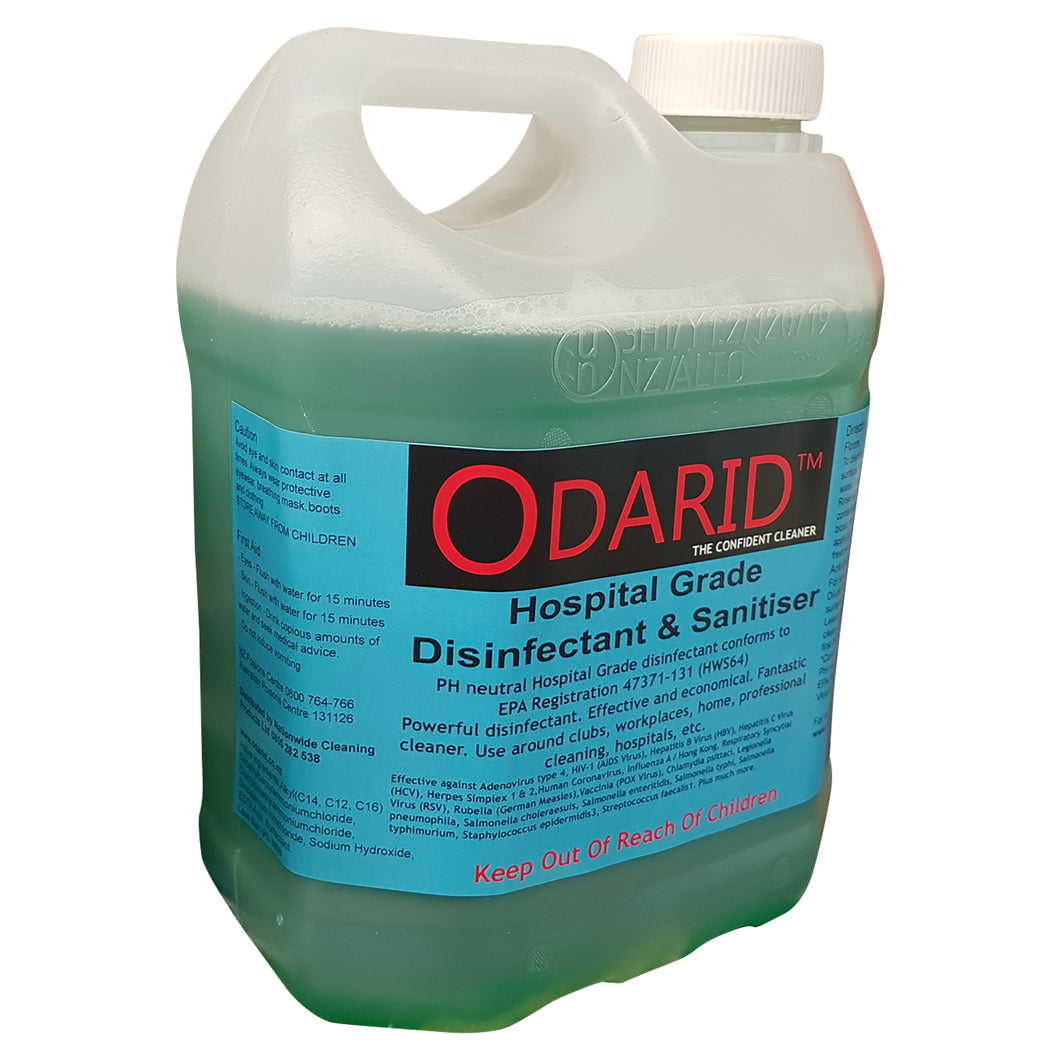 DISINFECTANT & SANITISER HOSPITAL GRADE 2 LITRE CONCENTRATE (60:1) ODARID
Regular price $49.00 Sale
NEW Product from Odarid. 2 Litres
PH neutral Hospital Grade disinfectant conforms to
EPA Registration 47371-131 (HWS64)
Fragranced is normally supplied. If you want Non Fragranced let us know at time of purchase.
Powerful disinfectant. Effective and economical. Fantastic cleaner. Use around clubs, workplaces, home, professional cleaning, hospitals, etc.
Effective against Adenovirus type 4, HIV-1 (AIDS Virus), Hepatitis B Virus (HBV), Hepatitis C Virus (HCV), Herpes Simplex 1 & 2,, Influenza A / Hong Kong, Respiratory Syncytial Virus (RSV), Rubella (German Measles),Vaccinia (POX Virus), Chlamydia psittaci, Legionella pneumophila, Salmonella choleraesuis, Salmonella enteritidis, Salmonella typhi, Salmonella typhimurium, Staphylococcus epidermidis3, Streptococcus faecalis1. Plus much more.
Directions for use ...
Floors.
To disinfect & clean floor surfaces and other hard
surfaces, add 80mls of Hospital Grade to 5 litres of water. Apply liberally and leave for 10minutes.
Rinse with fresh water. If treating heavily
contaminated areas containing body fluids, faeces or blood, ensure contaminants are removed prior to applying Odarid Hospital Grade. Always prepare a fresh solution each application
Anti Bacterial Spray.
For spraying surfaces such as tablestops, walls, etc. Dilute 60 to 1 and spray directly onto affected
surfaces.
Leave wet for 60 seconds before wiping dry with a clean cloth. Ensure contaminants are removed
first before applying
*Conditions apply
PH neutral Hospital Grade disinfectant conforms to
EPA Registration 47371-131
Viricidal / Bacterial Performance