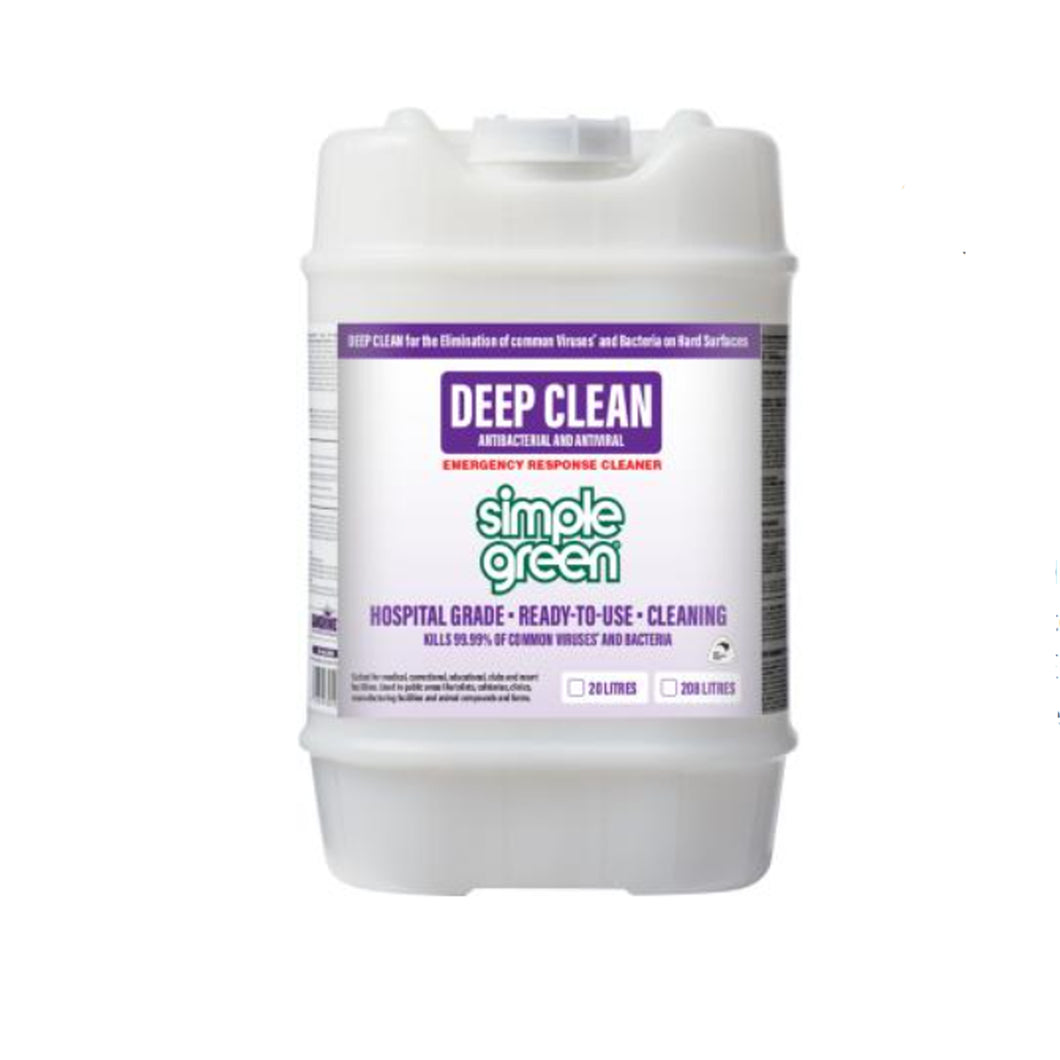 Simple Green Deep Clean Disinfectant Antivirus Cleaner 20L -tested against COVID
Regular price $199.00 Sale
Simple Green Deep Clean disinfects, cleans, and sanitizes hard, non-porous surfaces of common viruses and bacteria.
This Ready-To-Use solution contains lactic acid - a naturally occurring, biobased, readily biodegradable, organic acid. Formulated for fast, thorough cleaning. Apply to a surface by cloth, mop, sponge, sprayer, or by emersion .Effective against Murine Hepatitis Virus (MHV).Effective against Staphylococcus aureus, Pseudomonas aeruginosa, Escherichia coli, Salmonella typhimurium, and Enterococcus hirae. 10 Minute wet time with air dry. FOR USE IN: Medical, correctional, manufacturing, and educational facilities; public areas like clubs, resorts, toilets, cafeterias, government departments, institutions, offices, schools, and workplaces; animal compounds, and farms.
DISINFECTING: Apply Ready-To-Use solution to hard, nonporous surfaces, thoroughly wetting surfaces, with a cloth, mop, sponge, sprayer or by immersion. Treated surfaces must remain wet for 10 minutes. Allow to air dry.
CLEANING & DISINFECTING: For heavily soiled areas, preliminary cleaning is required. Apply Simple Green DEEP
CLEAN Ready to Use solution and agitate the surface with a cloth, mop or brush. Rinse to ensure all soil has been
removed. Repeat if necessary. Once cleaned and rinsed, apply again Simple Green DEEP CLEAN and allow to air