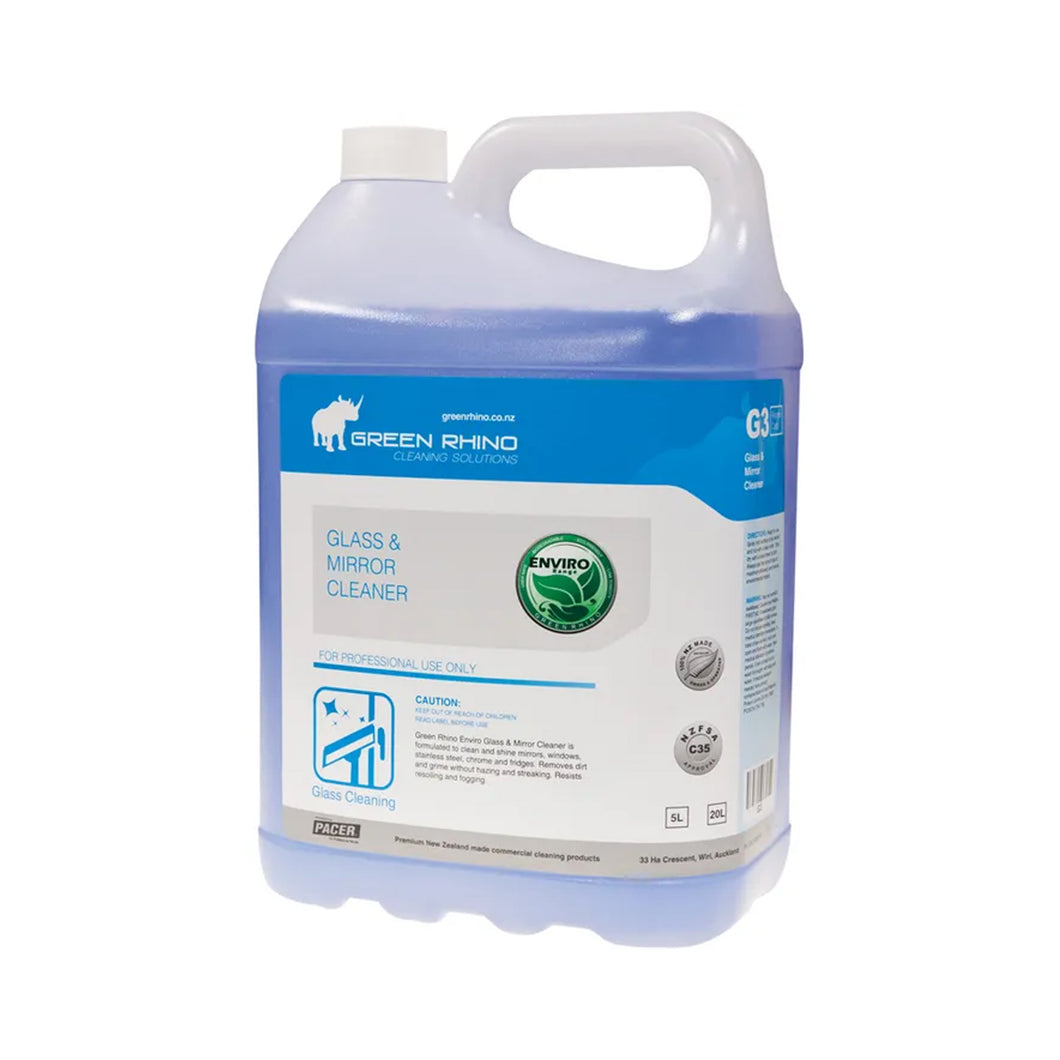 Glass & Mirror Cleaner Enviro Green Rhino - Select Your Size
Regular price $32.50 Sale

Green Rhino Enviro Glass & Mirror Cleaner is formulated to clean and shine mirrors, windows, stainless steel, chrome and fridges. Removes dirt and grime without hazing and streaking. Resists resoiling and fogging.

BENEFITS
• Cuts through dirt and removes germs quickly
• Highly concentrated, cost effective
• Biodegradable, good for the environment
• No hazing and no streaks
• Easy and ready to use
• Versatile, can be used on multiple surfaces
• Proudly made in New Zealand

APPROVALS
• Environmental Choice New Zealand Certified (Detergents and Cleaning Products Licence no. 5819156)
• MPI Approved C 35 (All animal product except dairy)

IDEAL FOR
• Glass, windows, mirrors, chrome, stainless steel surfaces like kitchen benches and appliances like fridges
• Perfect for areas like the bathroom, toilet, shower room, classroom, office, reception lobby, gym, lifts, kitchen

INDUSTRIES
• Hospitality - Hotels, Motels, Holiday Parks, Resorts, Casinos, Pubs, Restaurant, Cafes
• Education - Daycare / Childcare Centres, Schools, Colleges and Universities
• Health - Hospitals, Resthomes / Aged Care, Medical Clinics
• General Workplaces - Offices, Warehouses

HOW TO USE
Ready for use. Spray Green Rhino Enviro Glass & Mirror Cleaner onto surface to be cleaned and rub with a clean cloth. Wipe dry with a clean towel or cloth. Always use the correct dose for maximum efficiency and minimal environmental impact.