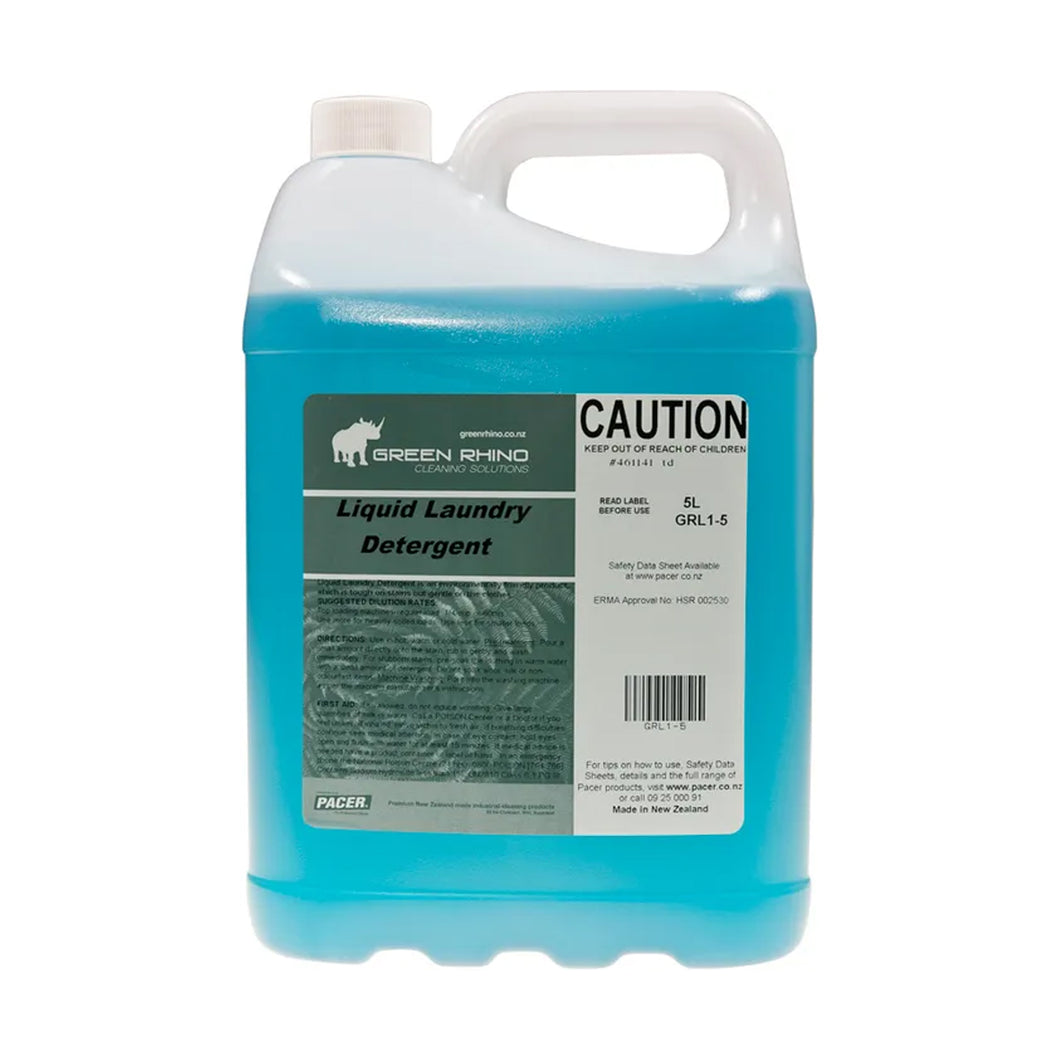 Green Rhino Laundry Liquid - Select Your Size
Regular price $27.50 Sale
An environmentally friendly product which is tough on stains but gentle on clothes. Ideal to be used for a hot or cold wash with both front or top-loading machines. It can also be used to pre-soak items in warm water to remove stubborn stains.

BENEFITS
• Excellent removal of tough soils and stains
• With a very mild sandalwood fragrance
• Effective with both cold and hot water
• Can be used in both domestic and commercial washing machines
• Proudly made in New Zealand

IDEAL FOR
• Areas that has a laundry machine
• Washing clothes, bedding, cloth nappies, towels and more
• Hot, warm or cold water
• Top and Front loading washing machines
• Domestic and commercial washing machines

INDUSTRIES
• Hospitality - hotels, motels, holiday parks, resorts
• Education - daycare / childcare centres, schools, colleges and universities
• Health - hospitals, resthomes / aged care
• Laundromats

HOW TO USE
Sort laundry by colour and fabric type. Always read and follow care instructions of the clothing. Choose the proper wash temperature and cycle based on the instructions. Do not overload the washer.

Top loading machines: Regular load 1/4 cup or 60mls Use more for heavily soiled load. Use less for small load.
Front loading machines: Regular load 30 – 40mls
Pretreatment: Pour small amount directly onto the stain, rub in gently and wash immediately. To remove stubborn stains, pre-soak the clothing in warm water with a small amount of detergent. Do not soak wool, silk or non-colourfast items.
Machine Washing: Pour into the washing machine as per machine manufacturer instructions.