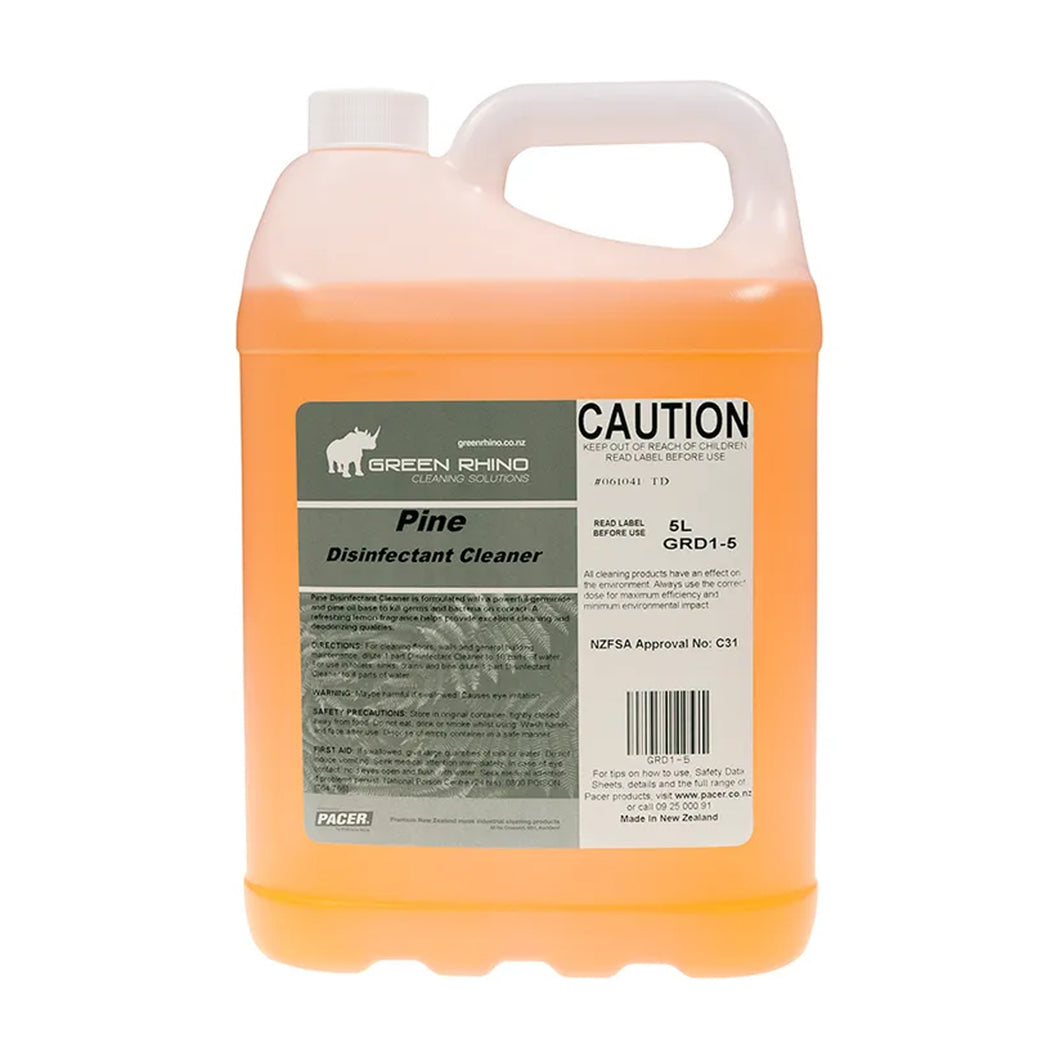 Green Rhino Pine Disinfectant Cleaner - Select Your Size
Regular price $17.20 Sale

Green Rhino Pine Disinfectant Cleaner is our economy general-purpose disinfectant with pine oil to leave a pleasant – long lasting fragrance. Use where general sanitizing and light cleaning is required.

BENEFITS
• Highly effective and powerful cleaner and disinfectant, attacks germs and kills it
• Multipurpose, works on different washable surfaces
• pH neutral, safe to use
• With Pine scent, leaves a refreshing fragrance
• Proudly made in New Zealand

APPROVAL
MPI Approved C 32 (All animal product except for dairy)

IDEAL FOR
• Use with a bottle with a cloth or a bucket with a mop.
• Disinfecting most washable surfaces like plastic, metal, glass, stainless steel, vinyl and most washable surfaces
• Cleaning walls, floors, benches, tables, desks, highly touched points, rubbish bins, chutes, and more

INDUSTRIES
• Hospitality - hotels, motels, holiday parks, resorts, casinos, pubs, restaurants and cafes, fastfood and takeaway outlets, entertainment venues and function centres
• Food manufacturing
• Education - daycare centres, schools, colleges and universities
• Health - hospitals, resthomes / aged care
• General workplaces - offices, warehouses, retail, showrooms

HOW TO USE
For cleaning floors, walls and general building maintenance, dilute 1 part Green Rhino Pine Disinfectant Cleaner to 10 parts of water. Dilute 1 part Green Rhino Pine Disinfectant Cleaner to 4 parts of water for use in toilets, sinks, drains and bins.