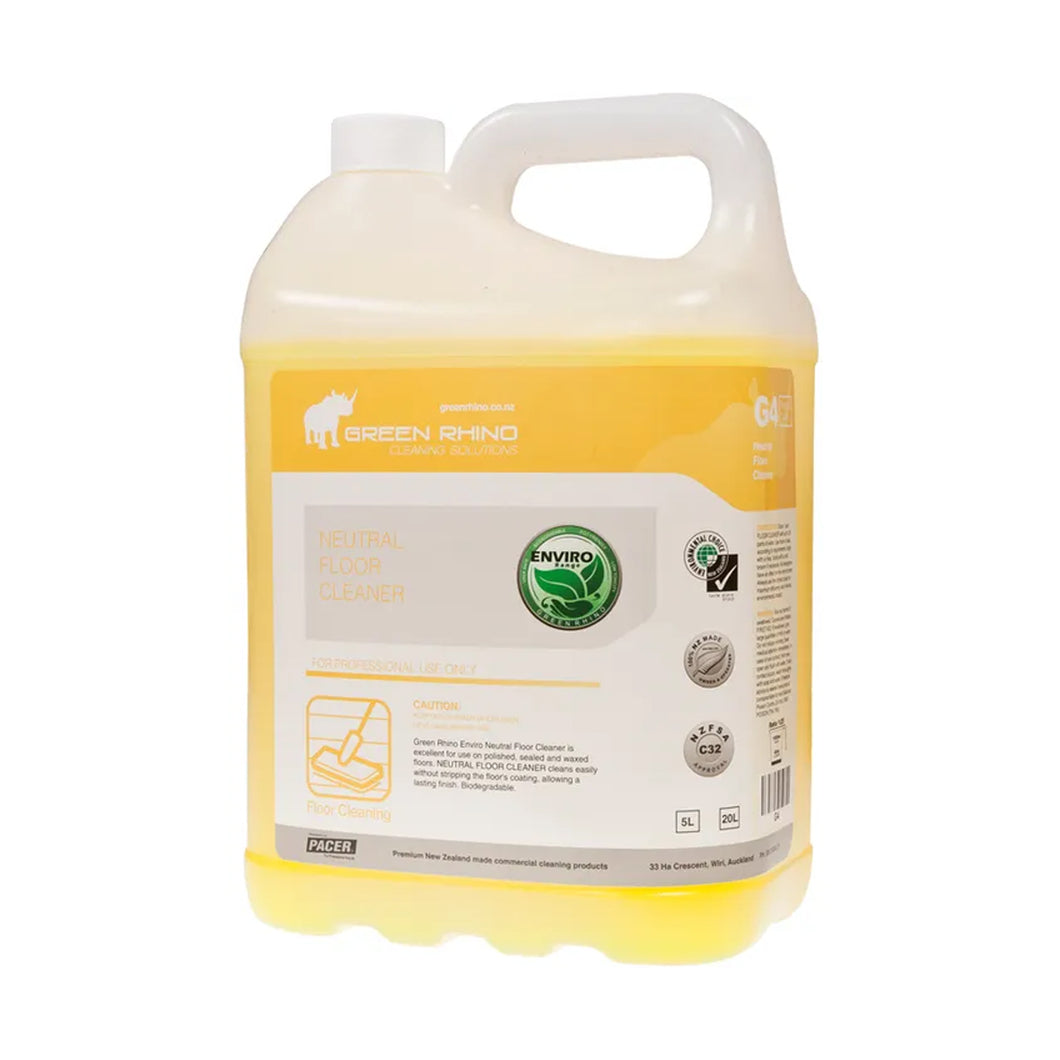 Neutral Floor Cleaner Enviro Green Rhino - Select Your Size
Regular price $29.00 Sale

Enviro Neutral Floor Cleaner is excellent for use on polished, sealed and waxed floors. It cleans easily without stripping the floor's coating, allowing a lasting finish. Biodegradable.

BENEFITS
• Effectively removes dirt and grime from many types of floor surfaces
• Biodegradable, good for the environment
• Gentle on most surfaces
• pH neutral, will not damage the gloss or finish of the floor
• With Eucalyptus fragrance, leaves a pleasant smell
• Food safe formulation
• Proudly made in New Zealand

APPROVALS
• Environmental Choice New Zealand licenced (Detergents and Cleaning Products Licence no. 5819156)
• MPI Approved C 37 (All animal product except dairy)

IDEAL FOR
Spraying and damp mopping floors
Use on vinyl, tiles, rubber tiles, concrete, terrazzo, linoleum, marmoleum, and VCT

INDUSTRIES
• Hospitality - Hotels, Motels, Holiday Parks, Resorts, Casinos, Takeaway shops, fast food outlets, Pubs, Restaurant, Cafes
• Education - Daycare / Childcare Centres, Schools, Colleges and Universities
• Health - Hospitals, Resthomes / Aged Care, Medical Clinics
• General Workplaces - Offices, Warehouses
• Shopping centres, retail shops and stores

HOW TO USE
Dilute 1 part Enviro Neutral Floor Cleaner with up to 25 parts water. Use more or less according to the level of soiling. Apply and scrub with a mop.
All detergents have an effect on the environment. Always use the correct dose for maximum efficiency and minimal environmental impact.