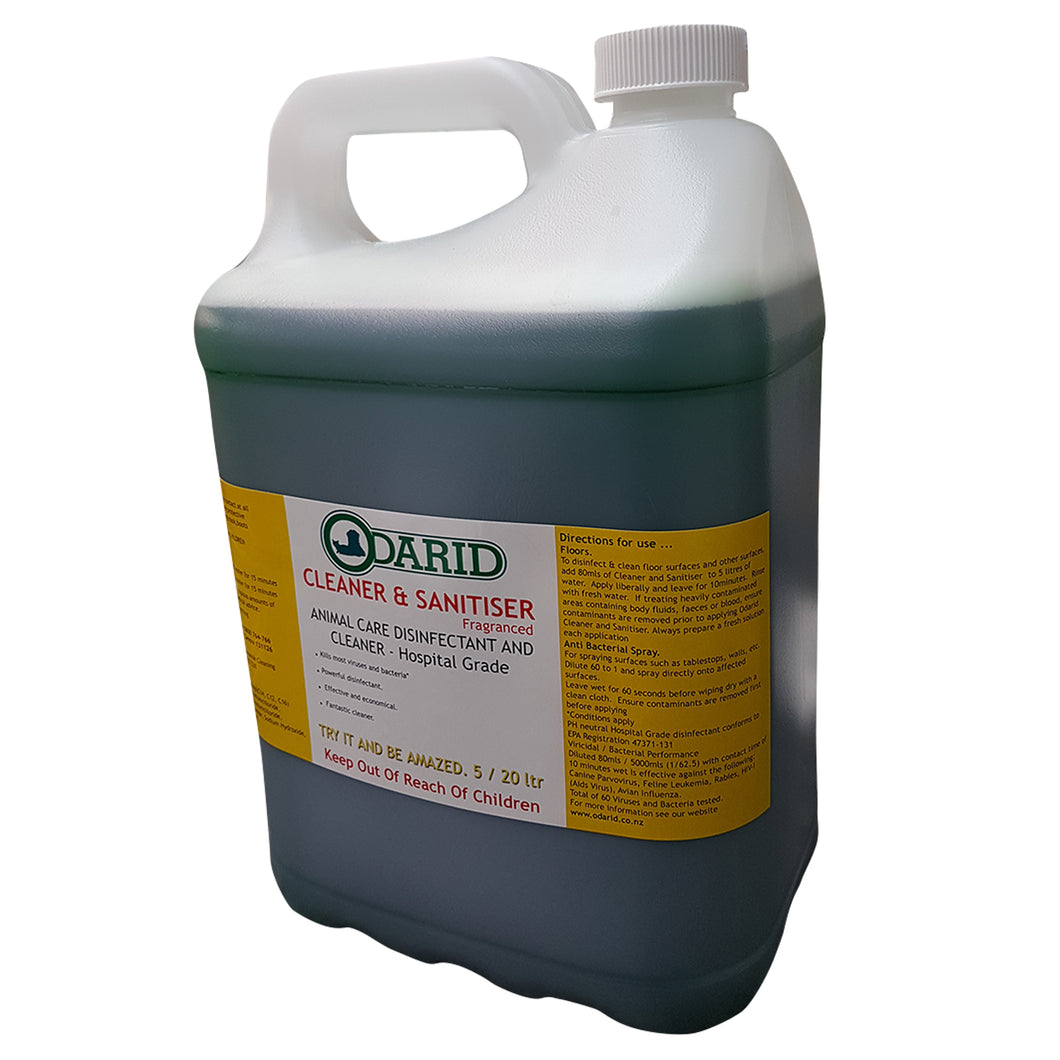 Odarid Cleaner & Sanitiser Disinfectant - Fragranced - Select Your Size
Regular price $49.00 Sale
WHERE DO YOU GO TO BUY A NEW ZEALAND MADE COMMERCIAL ANIMAL CARE DISINFECTANT THAT IS EFFICIENT AT ELIMINATING VIRUSES AND BACTERIA, GENTLE ON STAFF AND ANIMALS, ENVIRONMENTALLY FRIENDLY AND BIODEGRADEABLE, EXTREMELY EFFICIENT AT CLEANING, LOW FOAMING AND SUPPLIED AT A THIRD OF THE PRICE OF OVERSEAS PRODUCTS?  


OUR PRODUCT HAS PROVED ITSELF FOR THE LAST 5 YEARS IN COUNCIL POUNDS, NZ GOVT KENNELS (CUSTOMS, POLICE, AVIATION SECURITY) AND HUNDREDS OF KENNELS AND DOGGY DAYCARE CENTRES NATIONWIDE
HERE ARE 5 REASONS YOU SHOULD BUY ODARID SANITISER AND CLEANER FOR YOUR FACILITY.
1.Our animal care disinfectant and cleaner formulation is EPA registered which means the LONZA formulation and chemicals used by us have been tested against animal viruses and bacteria and passed the stringent EPA registration process.(See datasheet below) The product contains four very complex disinfectants designed to smash animal viruses safely and effectively
2. Our animal care disinfectant contains subtle fragrances and is specifically designed to kill bacteria and viruses as well as odours from feaces, urine and general animal smells meaning you will have a cleaner smelling facility with our product

3. Cleaner and Sanitiser has no fumes, will not burn your skin and contains no bleach meaning it won't stain your clothes or make your eyes burn. It contains no nasty ingredients that are going to hurt or upset the animals, giving you total peace of mind that you can use it with complete confidence
4. The product contains European biodegradable ingredients, specifically designed to the strict European regulations to clean efficiently without lots of foaming and then break down in the environment quickly and efficiently.
5. We would love your business and will look after you like a VIP client :-)
With the changing situations globally it is important to use a disinfectant that is  tested recently on a broad range of viruses and bacteria.  
At Odarid NZ Ltd we have partnered with  LONZA, the market leader and supplier globally of antimicrobial products. LONZA is the leading source for state of the art disinfectants and sanitising formulations founded in Switzerland, and now operating in 26 regions globally.
LONZA spend many millions of dollars annually testing bacteria and viruses on their EPA registered formulations and base products. This means the formulations have met the strict criteria required for the US authorities EPA (Environmental Protection Agency) against the viruses and bacteria listed on the datasheet

Odarid Cleaner and Sanitiser is a specially formulated broad spectrum, fourth generation, dual chain sanitiser, that carries EPA registration  47371-131
1. Odarid Cleaner and Sanitiser kills animal viruses and bacteria*
2. Odarid Sanitiser and Cleaner contains effective biodegradable surfactants  that lift dirt and contaminants with ease, and leave minimal residues.
3.

 

Odarid Sanitiser and Cleaner d

ilutes with water at 60-1 to make 120 litres of product. (this is the dilution rate that the product is tested at)
4. Odarid Sanitiser and Cleaner is suitable for hard surfaces such as floors and kennels, pets cages, bench tops, floors, litter trays, and most surfaces
7.

 

Odarid Sanitiser and Cleaner

 

can be used as an anti-bacterial spray also, in and around pet facilities.
 Odarid Sanitiser has a full datasheet however here is a snapshot of some of the viruses and bacteria the product eliminates.
Canine parvovirus, canine distemper, feline leukemia, corona virus, equine influenza A,  salmonella, e-coli, streptococcus, HIV-1 (aids virus), hepatitis B virus(HBV),  Herpes 1 and 2, legionella pneumophila, enterobacter aerogenes, enterococcus faecium, staphylococcus, listeria monocytogenes, infectious peritonititis, avian influenza,  and most viruses, bacteria and fungi.

* Diluted at 60-1 with water 
 Only 38 cents per litre
**Always ensure animals are removed when cleaning to avoid raw ingredients coming in contact with paws