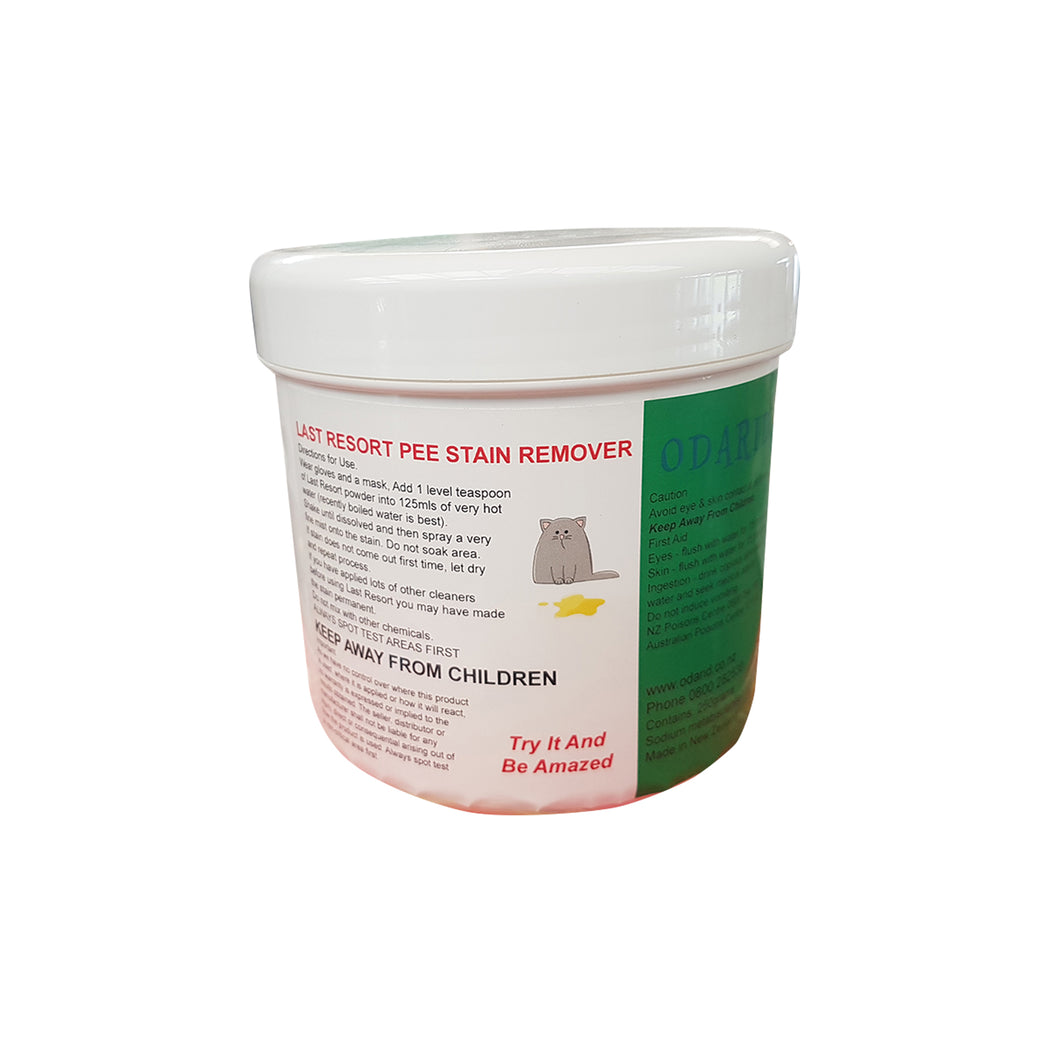 Odarid Last Resort Old Animal Stain Remover
Regular price $24.00 Sale
Here are 5 reasons you should buy Last Resort Carpet Stain Remover
1. Last Resort is used by professional carpet cleaners  and you can now enjoy their insider secret

2. It is the most economical stain remover around (Makes 5 litres) and will give you maximum savings over the years to come
3. Last Resort is easy to use, simply mix with hot water and gently mist onto the carpet stain.
4. Last Resort is specifically designed for urine and watermark stains

I HAD A RATHER LARGE RED STAIN ON THE CARPET IN MY DAUGHTER'S ROOM WHERE SHE HAD BEEN SICK GOING BACK 6 MONTHS. WE TRIED EVERYTHING TO GET IT OUT. CRAIG'S AMAZING STAIN REMOVER REMOVED IT IN 30 MINUTES. IT'S COMPLETELY GONE LIKE IT WAS NEVER THERE. I WOULD RECOMMEND THESE PRODUCTS TO EVERYONE AND MOST CERTAINLY WILL BE SPREADING THE WORD ON JUST HOW GREAT THESE PRODUCTS ARE.
ANNE AUCKLAND
Please note this is not a urine neutraliser. For neutralising urine and removing recent stains use our Pet Stain & Odour Remover.


According to our customers the product has also worked on hair dye, coffee, tea, vomit, cordial,and assorted other stains.


 Last Resort is based on Sodium Metabisulphite and a range of proprietory performance enhancers.
Dries odourless if used as directed. (Gentle mist)
Don't use to treat odour.
As with all cleaners - we recommend that you spot test first.